During GASP's time in CIT CCAD there have been informal encounters with students in other departments and programme but these have been limited. During the Expanding Realities Strategic partnership, we identified two main opportunities to pilot and evaluate engagement with both fine art under-graduate students and graduates of CIT CCAD and student art teachers.
This texts below explore engagement opportunities between fine art under-graduate students and graduates of CIT CCAD and artists working in supported studios along with reflection on the longer term relationships between a long-existing programme 'Arts and Group Facilitation' and with the MA in Art Therapy.
It also explores the engagement between student art teachers and artists working in supported studios.
GASP artists have been sharing space in CIT CCAD Department of Arts in Health and Community Practices since 2014. Over the years, collaboration with students has taken place on a number of levels, including, shared studio work and exhibitions, GASP artists facilitating in an Arts and Group Facilitation programme. As important as the formal encounters have been in the informal encounters of sharing space in the building, the encounters at lunch and coffee breaks and the everyday momentary encounters that come with sharing a space.


-Collaboration with CCAD Fine Art Students and Graduates
-Collaboration with Art Teaching Students on Professional Masters in Education programme in CIT CCAD
-Engagement with Master of Arts Art in Process
-Engagement with MA in Art Therapy Department and programmes
-Engagement with Arts and Group Facilitation programme
Collaboration with CCAD Fine Art Students and Graduates
In May 2016 CIT CCAD and GASP hosted an international workshop for partner supported studio groups, AIM from Bristol and Debajo del Sombrero from Madrid.
This intensive week of collaboration between 3 studio groups was an ideal opportunity for fine art under-graduate students and graduates of CIT CCAD to immerse themselves in a collaborative experience and to consider the mutual benefits of collaboration and the sharing of creative space and processes.
A call was put out to CIT CCAD past and current Fine art students and six signed up to join the weeklong workshop
About the workshop
CIT CCAD and GASP wanted to create a workshop environment that would
a) allow each participant to achieve personal and artistic goals through the experience
b) maximise the opportunity of being in Cork and in a new environment to connect with the culture of the city and to avail of what it had to offer culturally.
Being the third of the series of workshops CIT CCAD and GASP had an opportunity to build an experience in Cork for each artists based on
-observation of their interests in the previous workshops
-one on one consultation with the participants and their support workers about what they would like to do in Cork
-follow up conversations by email.
The design of the programme was a conversation that brought together with artists interests with what could be found, offered and experienced in Cork.
A timetable was devised for each individual participating artist. A central base the open-studio was the home-base that everyone could meet in the morning and connect and then go off in ones, twos and small groups to engage in a range of experiences. A creative day trip out together was planned in the middle of the week to keep a connection between all the artists and the
organisation. This day trip was also a chance for people to both to make work and to share their work in progress.
Unique to this workshop was the bringing together or various Cork based artists and groups as well as the GASP artists. Three local guest artists working with various media, dance, sound and intermedia were invited to collaborate. CIT CCAD fine art students were also invited as well as a group of school children who were in engagement with the GASP artists on a project.
What Fine Art Students and Graduates Experienced
I had the opportunity to collaborate with some artists and engage with their making process, as well as create a collection of portraits representing them.
The chance to work in an open and fun environment with artists of various backgrounds and styles gave me new ideas in relation to my own art practice.
I was inspired by seeing how other artists worked and understanding their processes and methods. This has given me ideas of ways to develop my own creativity, for example through creative writing and use of sound.
The week was a unique opportunity to gain insight into other practices, through working alongside and talking to other artists.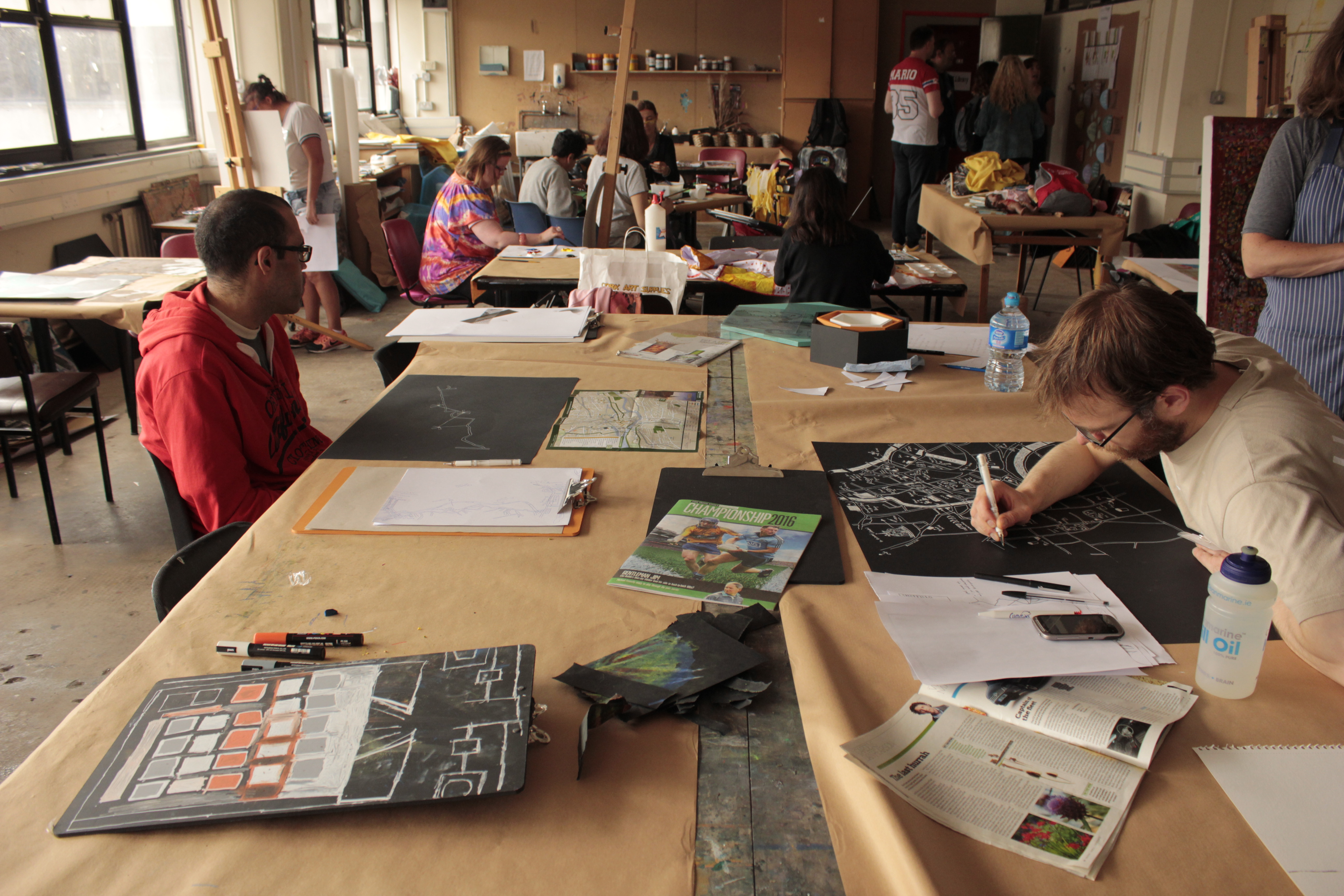 What Fine Art Students and Graduates learned
-Seeing how others approached their work and what techniques they used was beneficial for me as it opened up my mind to the endless possibilities of art, making me realize I could be less self-restricting when it comes to creating my own work.
-The week was a good opportunity to consider my practice in a different context, as I am used to working on my own in the studio, and it was an opportunity to work with others and even to work outside of the studio setting during the trip to Spike Island.
-It was a chance to see and understand international art programmes as well as Irish programmes and to see what is possible for an artist outside of the standard model of working in the studio and submitting work for gallery shows.
Overall I'm glad that I took part in this project because it has made me see how I could create work in a more relaxed studio based setting, without the worry of it being finished to a certain standard, like in college – or being assessed upon completion. I've also developed ideas that I am going to include in my own studio work.
What Fine Art Students and Graduates see as the benefits of collaborating with Supported Studio groups and the potential for future collaboration
As some participants might not have had any formal training, or if they had then it could've been a while ago – I see that it is beneficial to have the participation of current art students and art college graduates in the workshop as they can provide information on various techniques and approaches that the others might not have known about.
As the workshop took place in the college, I think to have students and graduates around possibly helps the participants to feel more at ease in the environment. It also helps to create links with the college which could prove useful in terms of access to college facilities for example, and also opens up the possibilities of future collaborations with the college and its students.
-As an artist I've benefited greatly from having this experience in an open art studio, where I could create freely without worrying about my work being evaluated. And having insight into the making process of other has also given me plenty of ideas and inspiration which is always a great benefit.
-I developed new confidence, new ideas and collaboration skills. Also, this was a very valuable networking opportunity to meet and work alongside artists from within Cork and from the UK and Spain.
-The art college can benefit from this as it creates links between individuals and organizations, opening possibilities for both the individual and the institution.
For the college it is always beneficial to have artists from outside the institution coming in as it opens up new ways of working to the college students and staff.
-For the college it is always beneficial to have artists from outside the institution coming in as it opens up new ways of working to the college students and staff.
-It brings a fresh energy and perspective to usual ways of doing things when there are people coming in from outside the institution. It would be lovely to see a similar project realized in the future, as having spoken about the project to a number of my peers I see a great interest in them wanting to participate in something similar.
-I think that for a lot of students in art college, programmes like Expanding Realities could be very useful in terms of developing students' practices and to give them an insight into the possibilities that exist outside of the art college environment and as a way for students to engage with a wider range of people.
-A programme like this is also a way of showing students the value of art, when at times some students can become a bit jaded with the college system, and that there are different ways of working and practicing as an artist. It also proves the value in collaboration, which I believe is important for emerging and young artists to realise very early on in their development.
Collaboration with Art Teaching Students on Professional Masters in Education programme in CIT CCAD
The Expanding Realities Strategic partnership worked closely with the Perceptions 2016 exhibition to Share the work of the partnership with a particular focus on sharing the methodologies and outcomes of the workshop programmes alongside sharing the work of the individual artists practising in supported studios and outcomes of collaborative projects.
About the workshop programme
As part of the Erasmus+ Strategic Partnership workshops are being hosted by each of the partners as a means for them to share their approaches to their work with participating artists and also to test, innovate and evaluate their practice through engagement with partners with the benefits of an inter-cultural learning context.
The documentation of and reflection on the workshop processes is an important part of the learning for the partners as well as an opportunity to share with others practising in similar fields. There are six participating artists from each partner organisation along with a number of supporting/ collaborating artists in each workshop.
Each workshop was for 5 consecutive days. Debajo del Sombrero hosted the first workshop in Madrid May 2015 followed by AIM in Bristol in March 2016 and CIT CCAD and GASP in Cork in May 2016.
Sharing the process of the Expanding Realities workshop shared in Perceptions 2016
The Perceptions 2016 exhibition had a section of the Crawford Art gallery dedicated to sharing the experience of the Expanding realities workshops. The presentation of the workshops was carefully considered to engage people according to different styles and preferences of engagement and learning. It was intended that it would be engaging for all ages and to people from a range of backgrounds, whether individuals interested in creativity, learners in education from preschoolers to third level students, social and community education programme participants and also educators in formal and non-formal education.
The exhibition had the following elements
-A visual timeline
The timeline told the story of the journey of the three workshops. It was made up of 50 hexagons of various sizes in MDF. The timeline was made by the artists participating in the workshop were invited to use images and text to recall and reflect on the experiences of the three workshops. The first 3 hexagons where prepared in advance with the basic data of the locations and dates of each of the workshops to stimulate the participants to begin telling the story.
-Video documentation
A large screen was installed in the gallery space to present a video documentary of each of the three workshops. Each documentary was approximately 8 minutes long.
-Installation of art pieces and objects made by Artists in the workshops.
This part of the exhibition of physical objects gave another entry point to engage with the process. It included
-packets of photos taken by one of the artists that the public could browse through.
-Maps created by one of the artists in each of the countries
-objects of clothing that had been transformed into artworks
-A set of clipboards that had been drawn and painted on by artists
-a set of suitcases that had been transformed into artworks during the workshop in Bristol and symbolising the journey of the workshops.
The objects in the room echoed the visuals of the film documentation. In the films, the public could see the process of creation of work and also the actual objects created.
-an installation of objects replicating an element of the workshop in Madrid hosted by Debajo del Sombrero and called "in white"
-Public response space
This section of the exhibition had a series of mini-hexagons in card, the same format and colour scheme as the timeline for the public to respond to the exhibition considering what had inspired them.
Madrid

Bristol

Cork

The students and staff team visited the Perceptions 2016 exhibition where the workshop programme of the Expanding realities workshop was presented. They viewed the videos in the workshop and engaged in some hands-on experiential activities drawing from the experience of the workshops. The engagement focused on an experience from the Madrid workshop called "In White"Development of timeline in Expanding Realities workshop in Cork May 2016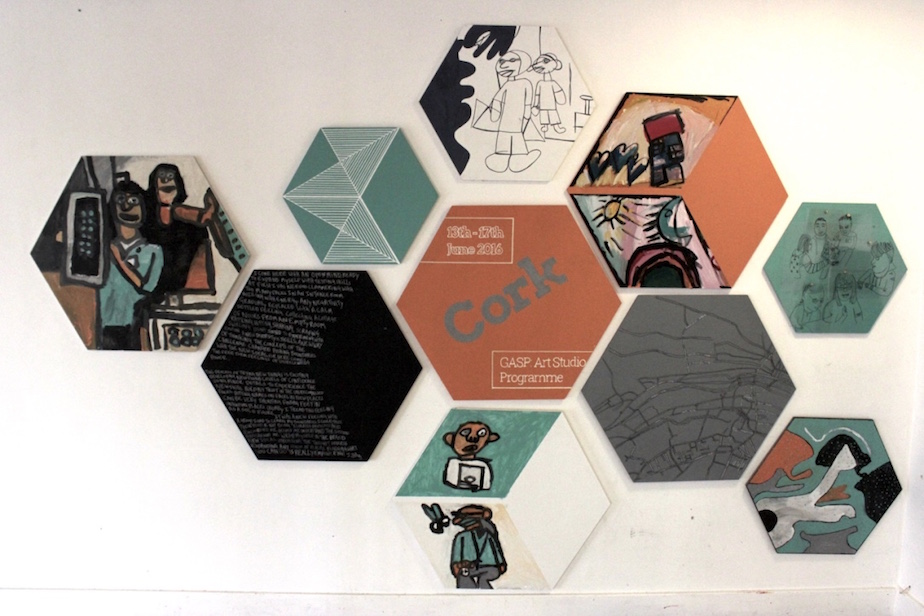 Presentation of Expanding Realities workshop timeline in Perceptions 2016 Exhibition Sept – Oct 2016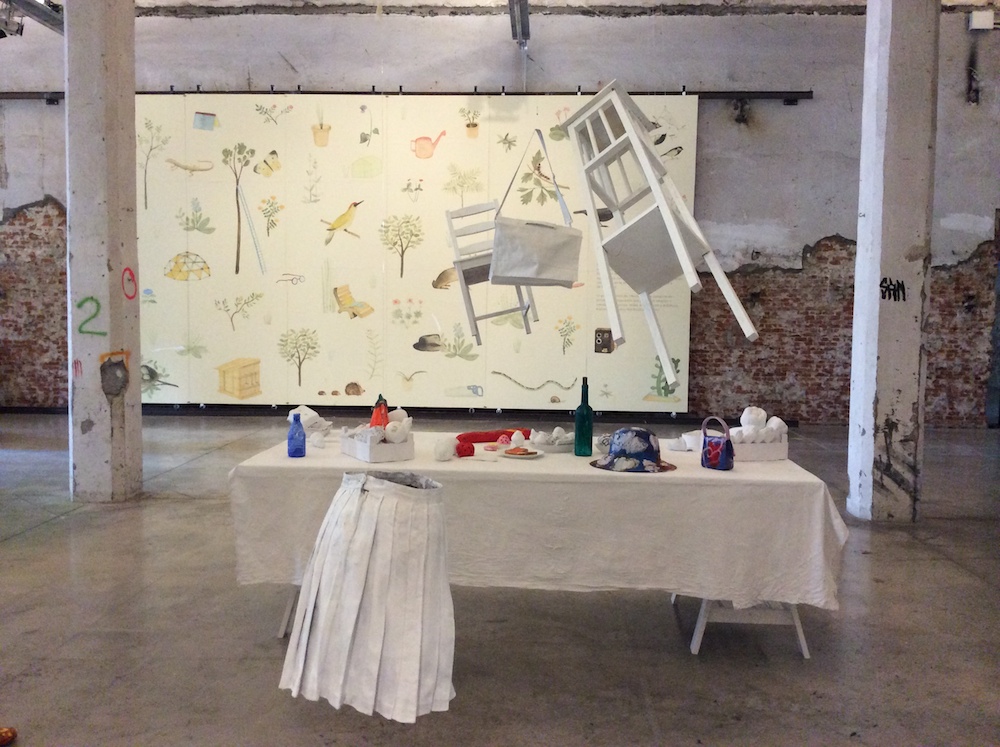 In White installation in Madrid, May 2015.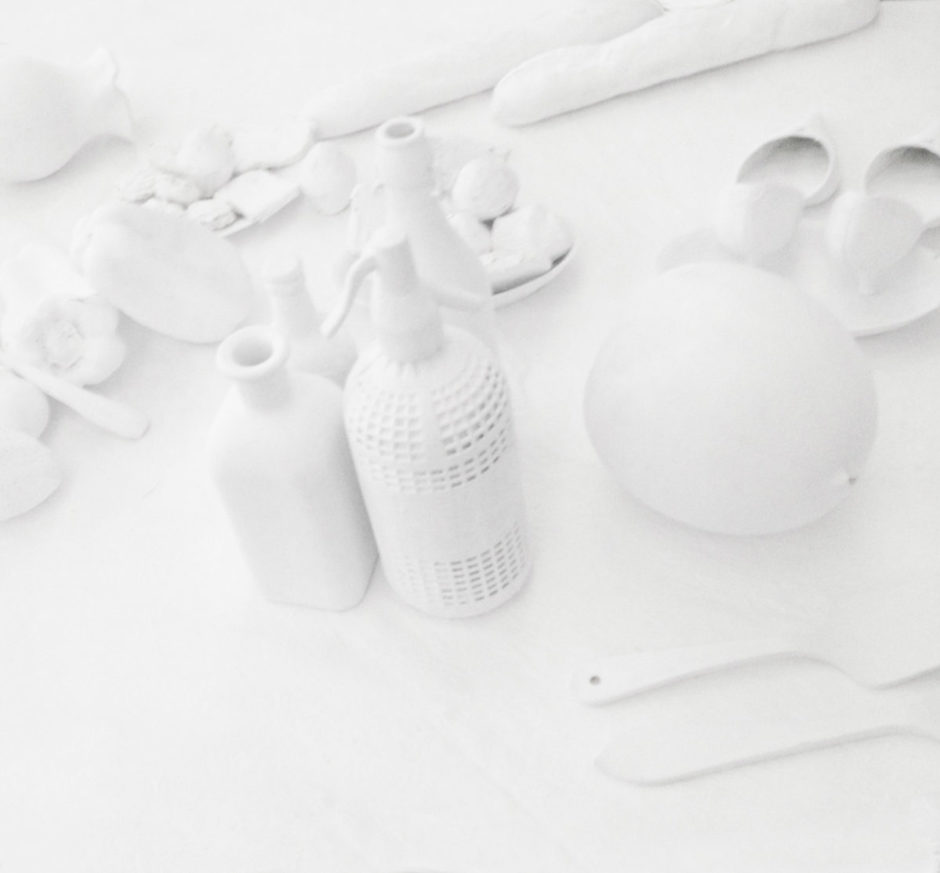 In White installation in Perceptions 2016 Exhibition Sept – Oct 2016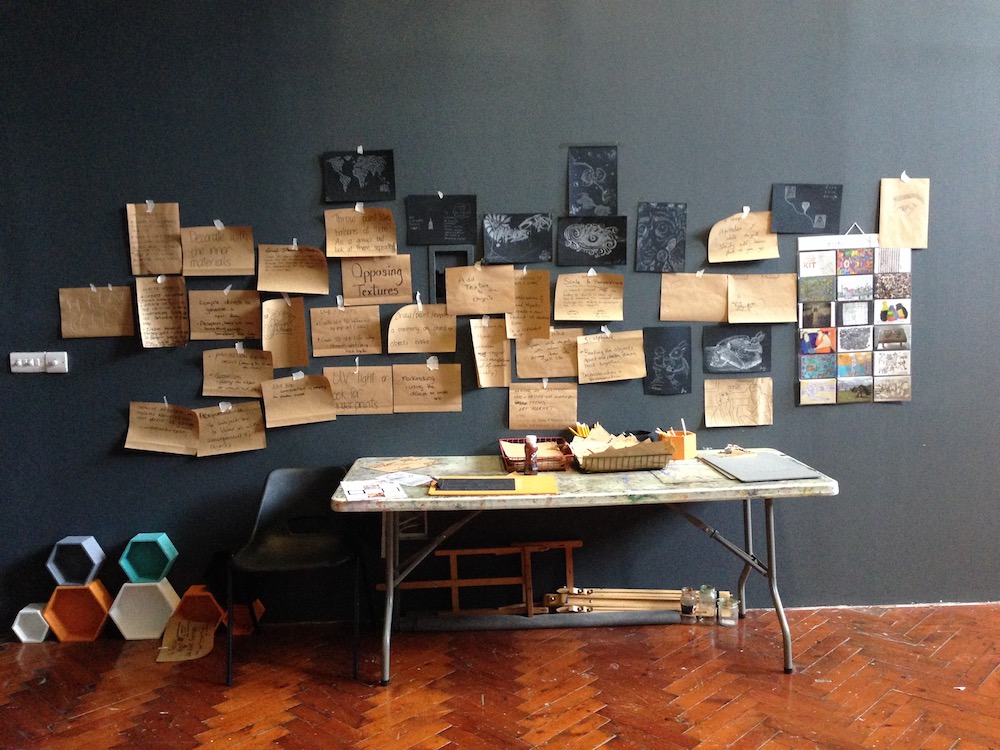 PME students brain-storm of ideas for adapting pedagogical concepts of the 'In White Installation' to their work in the classroom.
About 'In White'
The participating artists and collaborators from Debajo del Sombrero prepared the installation "In White", prior to the arrival of the visiting partners. The installation was a set of objects e.g. clothes,
shoes, chairs, bread, fruit placed on a table with a white tablecloth and suspended from the ceiling, all primed in white. The visitors were welcomed by the sight of the installation and the Debajo del Sombrero participating artists and collaborators as soon as they entered the space. Following on through the space, beyond the installation was a table well resourced with good quality materials, e.g. paint, brushes, markers, pencils all laid out clearly visible as an invitation to use. There was also an arrangement of tables and chairs spread out informally in the space. The installation was there to engage with throughout all five days of the workshop together. The installation served several functions alongside the symbolic role of reception, opening and beginning of something. It served as three-dimensional base on which to draw, paint and write, re-purpose or reinstall in different way or location. It served to bring the unknown to participating artists. It was neutral, free from preconditions, requirements or limitations. That reinterpretation of meanings was what Debajo del Sombrero sought to offer. With this installation, an open space was created in which the collaborators, could pick up the languages and interests of the artists and adapt to the unpredictable situations that come with
each individual participating artist. Throughout the week the installation served as a backdrop in the space not only for those directly involved in the process, but for the many people who visited and passed through the space as well.
Student engagement with 'In White'
The students were invited to consider the process that took place in the workshop and to consider the pedagogical intention. They then were asked to consider how they could use the start of the process, the presentation of the installation to students as a starting point how they could develop work with their students.
The experience to engage with the work of the supported studios was a stimulating experience for the students. They came up with a wealth of ideas about how they could adapt, adjust and apply the experience. They effectively recognized and drew on principles presented in the workshop.
Below is the feedback from Art education lecturers on the experience.
What relevance did you find in Expanding Realities and Perceptions 2016 and the workshop to your objectives for the Student teachers?
The Professional master of education (Art & Design) requires students to engage in critical pedagogy and to consider alternatives to mainstream art and design education. Part of this is to examine alternative pedagogies and settings, considering how equality and inclusion is established so as to be mindful of overcoming the 'one size fits all' axiom. This exhibition and workshop highlighted not only the importance of redefining and 'expanding' their reality of what and how they teach, but also the energy, vibrancy and creativity that is truly achieved when these collaborations, approaches and settings are engaged in by all participants.
What unique learning opportunities did it offer?
It provided a lively forum for interacting with a facilitator artist / consultant who was able to provide valuable insight into the role that artwork and international creative forums can have on differently abled artists. Viewing that artwork and videos of the creative sessions provided potential for our students to expand their understanding of arts in a supported studio space and how there may be some overlap and connections with mainstream education. The brainstorming and critical reflection activities dovetailed well with our students experiences of 2nd level teaching and therefore they were able to see the potential to transfer understanding and knowledge from one arena to another
What are the key things you hope students will take away?
That art and inclusion should be indivisible from one another and that anyone, no matter what difficulties and disadvantages that they face in life, are valued and respected. Also, that the freedom and inhibition that differently abled artists show and how real expression is possible, will act as an inspiration for our students to explore new ways of thinking about creativity.
Do you see any potential possibilities or benefits for your students (or other students in CIT CCAD) to interact/collaborate directly with some of the artists in supported studios?
Possibly as part of the required research component in year 2 of the PME (Art & Design) programme, students may choose a non-mainstream setting for conducting and gathering data that may lead to a complete research paper for form part of a study that takes place in a secondary school.
Engagement with Master of Arts Art in Process
The students of the MA:AP programme had the opportunity to see the work of the studio group and it's presentation and pubic engagement programme in the Crawford Art Gallery during Perceptions 2016
The focus of their visit was about what they could learn from the work of the supported studios and the Crawford Art Gallery Education programme that would support them in engaging with audiences of their own MA exhibition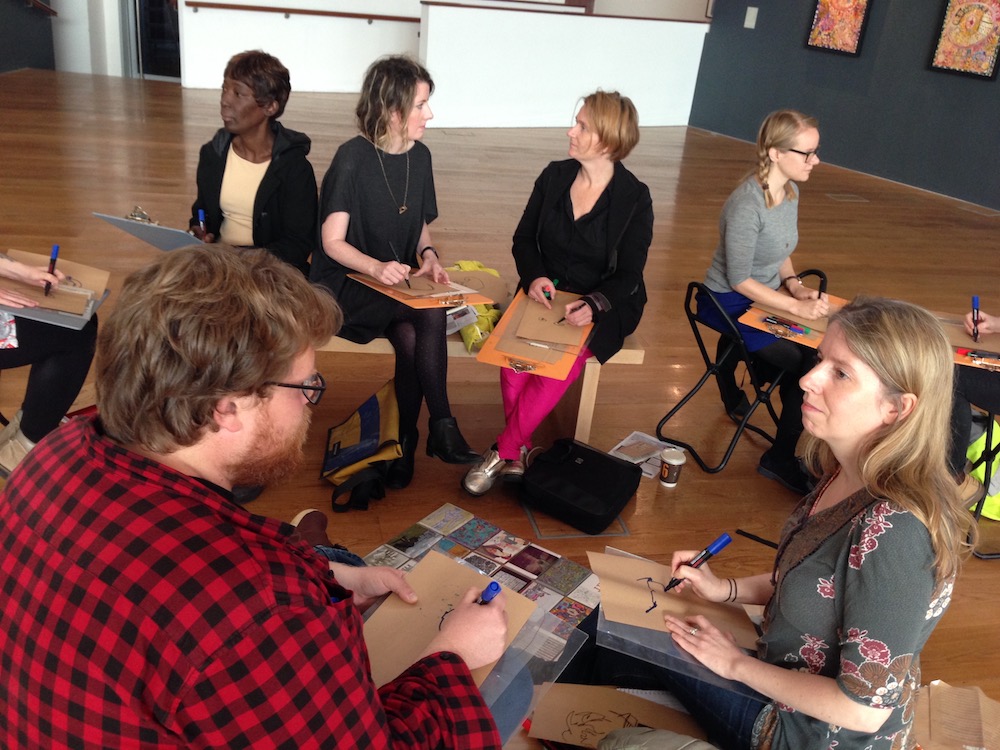 Engagement with MA in Art Therapy Students
Engagement with Arts and Group Facilitation programme